VIVAER Nasal Airway Remodeling
Do you have nasal airway obstruction?
Do you have difficulty breathing through your nose?
Are you a habitual snorer?
Do you not sleep well? Constant tossing and turning?
Are you constantly fatigued?
If your answer is yes for any of these questions, schedule an appointment to learn more about your treatment options.
If you feel stuffed-up all the time, even when you don't have a cold and when it's not allergy season, you may have a nasal obstruction that keeps you from breathing freely or even sleeping comfortably. Fortunately, there are a few solutions that can help.
Dr. CT Nguyen is a Certified ENT surgeon in Houston with more than 20 years of experience. As a leading ENT expert in the Houston area, Dr. CT Nguyen has helped hundreds of patients breathe easier. His office even offers nonsurgical options for a variety of sinus and nasal conditions — including VivAer® nasal airway remodeling.
What Is Nasal Obstruction?
Airway obstruction is caused by a mechanical blockage in your nasal cavity, which runs from your nose to your upper throat. When your nasal passages are blocked, air cannot flow freely into your lungs.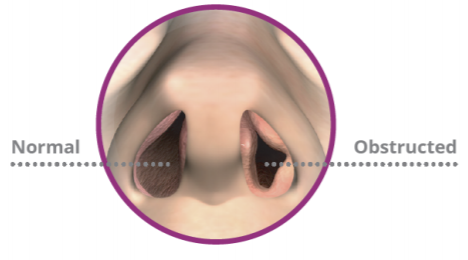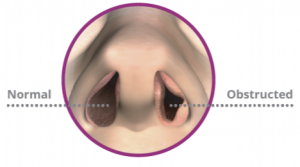 What Causes Nasal Obstruction?
Nasal obstruction is sometimes caused by genetics. There are three structures in your nasal valve. The septum is the thin piece of tissue and bone between your nostrils. The lateral wall forms the sides of your nose, and the turbinates are tissue that directs and warms the air you breathe in. Genetics and injury can cause defects in these structures, which can restrict airflow. Common problems in this area can include a deviated septum and enlarged turbinates.
In addition to genetic conditions, physical barriers can also form inside the nasal cavity. These can include tumors as well as benign nasal polyps.
What Are the Symptoms of Nasal Obstruction?
You may suffer from nasal obstruction if you:
Have difficulty breathing through your nose, especially when you exercise.
Have trouble sleeping.
Experience frequent nasal congestion.
Snore.
Feel fatigued often.
If you notice these symptoms, visit an ENT specialist. While over-the-counter nasal strips and sprays can provide temporary relief, they are not a treatment. An ENT specialist can diagnose the issue and can prescribe nasal blockage and congestion treatment that addresses the root cause of the problem.
Treatment Options
For nasal obstruction, open surgery is one permanent treatment option. In this treatment, the patient is usually admitted to the hospital and placed under general anesthesia. The surgeon makes incisions on the nose to access the obstructions to remove them. The patient then recovers in the hospital.
Endoscopic surgery is a less-invasive option. During this procedure, the surgeon uses a medical instrument called an endoscope to avoid having to make a large incision on the nose. This thin instrument has a light and camera at the end, allowing the surgeon to see and address any nasal cavity obstructions. Recovery time for endoscopic surgery is usually significantly less than for open surgery, and the scarring is smaller.
A third and even less invasive treatment option is VivAer®, which does not require any incision at all.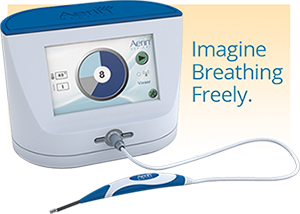 VivAer® Nasal Airway Remodeling
VivAer® is a noninvasive nasal blockage and congestion treatment that can be performed right in an ENT professional's office. Previously, anatomical blockages of nasal airways were routinely treated with surgery, but VivAer® allows patients to breathe easier without incisions. This procedure uses radiofrequency energy to reshape the nasal cavity.
Benefits of VivAer®
VivAer® is popular with patients because it:
Often takes only 15 minutes.
Can be completed in the ENT's office.
Requires no hospital admission.
Allows patients to notice results right away.
Provides long-lasting results to patients.
Has been clinically proven to be a safe, effective treatment.
Can be used by those who may not qualify for surgery.
Allows most patients to return to their regular lives the same day.
Offers no damage or incisions to the nose or nasal tissue.
Results in no scarring.
Requires no implants.
Requires virtually no lifestyle disruption or restrictions to your regular activities.
In addition to the benefits of VivAer®, getting treatment for your nasal obstruction will help you breathe easier. As a result, you'll enjoy:
Better sleep.
Easier breathing.
Less money and time spent on sprays and other home remedies.
Enhanced comfort.
Improved overall health with better sleep.
Is VivAer® Right For Me?
VivAer® is a safe, effective treatment for nasal obstruction. If you've been making do with home remedies for nasal obstruction, VivAer® can mean freedom from sleepless nights, snoring, brain fog and other symptoms.
VivAer® is an option for many patients, even those who may not qualify for traditional nasal surgery. To determine whether VivAer® is right for you, consult with an ENT expert such as Dr. Nguyen. Dr. Nguyen can review your medical file and determine the best course of treatment for your specific case.
Step #1: Place two fingertips on your cheeks, on each side of your nose.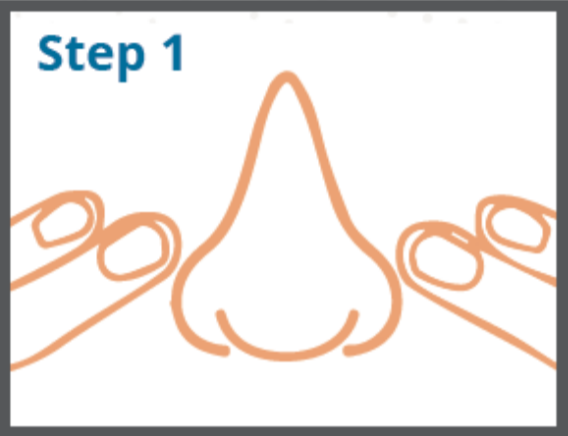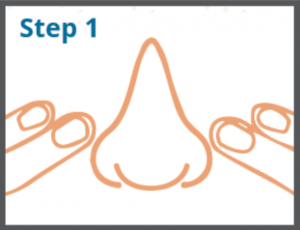 Step #2: Gently press and pull outward to further open your nasal passage. While holding, breathe through your nose.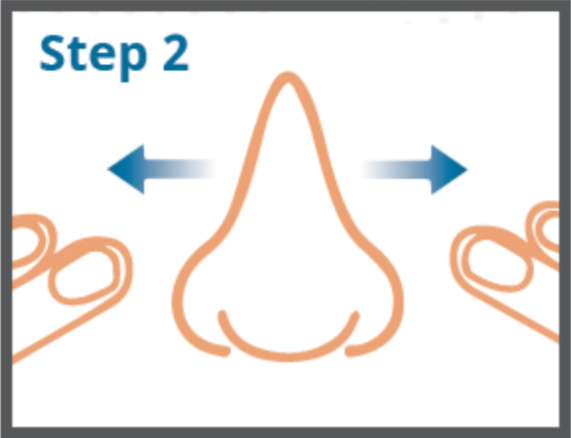 What to Expect From VivAer®
If you and your ENT specialist determine that VivAer® is an option for you, your ENT professional will ask for your medical history and order lab tests ahead of the procedure. Before the procedure, you will need to avoid smoking, drinking and eating for a specific period of time and you may be asked to pause specific medications. You will also need to arrange for someone to drive you home after the treatment.
When you arrive for your treatment, the procedure will typically take about 15 minutes. Your ENT professional will give you any post-treatment instructions to take home with you.
VivAer® Patient Testimonial Videos
https://player.vimeo.com/video/351209873
https://player.vimeo.com/video/425901306
https://player.vimeo.com/video/425901459
https://player.vimeo.com/video/425901729
https://player.vimeo.com/video/425901922
https://player.vimeo.com/video/426773276
Find Relief From Airway Obstruction Today
If you're interested in VivAer® noninvasive nasal airway remodeling in Houston, schedule an appointment with Dr. CT Nguyen or contact us with any questions. Dr. Nguyen helps patients in Jersey Village, Houston and Cypress as well as surrounding areas.
¹ Data on file. Aerin Medical TR680-01.