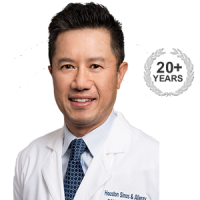 If you're nervous about seeing a specialist, rest assured that you're in the best hands. Dr. CT Nguyen has more than 20 years of experience as a leading ENT expert and has helped thousands of people get relief from their nasal, allergy and sinus conditions. And he can help you too.
DR. NGUYEN HAS BEEN FEATURED ON

Are you looking into ENT treatment but not sure it's the right fit for your symptoms?
Before scheduling an appointment, here are a few questions to ask yourself about your condition:
Is it hard to breathe through your nose?
Are you having trouble sleeping?
Do you get frequent headaches?
Any of the above issues can mean you have a nasal, sinus or allergy problem affecting your ear, nose and throat — so if you answered "yes" to any of these questions, it's time to think about booking an appointment.
"Dr. Nguyen and his staff are very nice. The sinus procedure was tough at the beginning as I could not take steroids to aid the recovery process, but now I'm feeling great!"
Why Choose Houston Sinus & Allergy As Your Houston ENT Doctor?
When you come to us, you can be certain you will receive excellent care in addition to our committed degree of compassion and understanding. We are dedicated to helping you receive the best treatment available — so you feel better and get the relief you need. We offer superior services in the Houston, Cypress and Jersey Village areas, including:
Triple Board Certified ENT Doctor
Nationally Recognized Center of Excellence for In-Office Sinus Treatment
State of the art facilities & caring staff
Impeccable record of satisfied patients
No referrals required
Same-day appointments
Personalized experience with a doctor you know and trust
If you think you may be in need of one of the services offered by Houston Sinus & Allergy, don't wait! Reach out to us today by filling out the quote form to get started, or contact us with your questions and concerns.
We offer treatments to relieve your sinus issues related to allergies.
Our ear cleaning, wax removal and surgeries will help you hear and feel better.
Suffering from nasal pain or sinus problems? Nothing feels worse than struggling to breathe freely, staying up with sinus headaches at night or dealing with a constant stuffy nose and nasal drip. Our sinus doctor in Houston can help. We offer low-risk comprehensive treatments for sinus problems of all kinds, including:
Nasal turbinates
Sinonasal tumors, polyps, and masses
You'll be surprised by how much better you breathe and how much less you struggle post-treatment.
Even if you only sometimes struggle with ear, nose, and throat symptoms, they can severely interfere with your quality of life. Seasonal and year-long allergies can cause symptoms such as:
With our quick, natural treatments, our ENT specialists in Houston help to relieve and eliminate the effects of:
Allergic fungal sinusitis
Congestion and runny nose
And other allergy-related conditions
In-Office Surgeries and State-of-the-Art Treatment
Our Houston ENT doctor's practice offers more than just diagnosis or procedures — we're a one-stop shop for all your sinus and allergy needs. With a staff composed of certified doctors, we provide every ENT service from testing, imaging and diagnosis to anesthesia, treatments and in-office surgeries.
You don't need a referral from another doctor for diagnosis — and you won't have to go to the hospital for your procedures. Our state-of-the-art equipment, in-office operating room and progressive treatments will assure you have everything you need in one place. We stay up-to-date on the most current ENT treatments for every condition, so we know what works best. We also make it our focus to promote natural treatment options as often as possible.
As a patient, you can even try our no-cost treatment to see how easy breathing is post-treatment. We promise you've never received care this comprehensive.