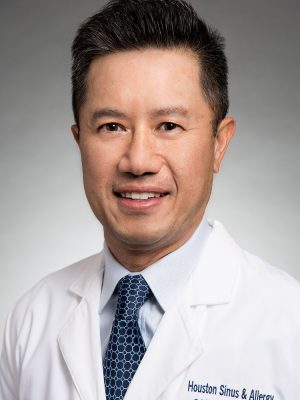 Ear, Nose and Throat Specialist Houston
Are you looking for an ENT allergy specialist in the Houston, TX, area? From a constantly congested nose and cold-like allergy symptoms to serious conditions like sinus infections and severe headaches, dealing with discomfort can be more than an inconvenience — it can interfere with living normally.
Ear, nose and throat complications cause constant pain and discomfort — keeping you up at night, stopping you from breathing normally and preventing you from enjoying your life. If you're suffering with these symptoms, acceptance isn't your only option. The right doctor can change the way you breathe and live for the better.
If you've been searching for a rhinology specialist in Houston, Dr. Nguyen at Houston Sinus & Allergy is here to offer the relief you need.
CT Nguyen MD, FACS: Leading ENT Expert & Educator
Dr. Cong Thu (CT) Nguyen is a Board Certified Ear, Nose and Throat – Head and Neck Surgeon who has extensive training and experience in the diseases of the ears, nose and throat. His special clinical interests include sinus diseases, snoring disorders, allergy treatment and image-guided functional endoscopic sinus surgery.
Dr. Nguyen's 20+ years of experience have allowed him to realize that a disease may require more medical intervention and investigation rather than an immediate need for surgery. If surgical treatment is necessary, Dr. Nguyen is trained in the latest advancements in ear, nose and throat diseases and disorders. Many treatments can be done in the office and without general anesthesia allowing patients to feel better sooner.
Dr. Nguyen is recognized as a national leader in office Balloon Sinus Dilation / Balloon Sinuplasty procedures. This procedure performed in the office reopens the sinus pathways and restores drainage to deliver relief to sinusitis sufferers.  He has been appointed as a national instructor for in-office  Balloon Sinus Dilation because of his expertise. His practice, Houston Sinus and Allergy, has also been designated a Center of Excellence for its facilities and patient comfort. Surgeons travel from all over the United States to observe Dr. Nguyen perform Balloon Sinus Dilation and learn his techniques. He has performed thousands of Balloon Sinus Dilation cases. Dr. Nguyen is one of the most experienced doctors performing this procedure in the country.
At 22 years old, Dr. Nguyen received his medical degree from the University of Sherbrooke. Graduating at the top of his class, Dr. Nguyen pursued and was selected for one of the most competitive and coveted residency programs in medicine, Otolaryngology-Head and Neck Surgery. He completed his general surgery internship and otolaryngology-head and neck surgery residency at the University of Montreal where he served as chief resident. During his last year of residency, he met and he fell in love with a native Texan who convinced him to follow her to the Lone Star State. Dr. Nguyen says he might not have been born in Texas but he got here as soon as he could.
Dr. Nguyen has the unique distinction of being triple-board certified in Otolaryngology.  He is certified by the American Board of Otolaryngology, the Royal College of Surgeons of Canada and the College of Physicians of Quebec. He is a fellow of the American College of Surgeons, the American Academy of Otolaryngology – Head and Neck Surgery and the Royal College of Surgeons of Canada.
As an avid patient educator, Dr. Nguyen is a frequent community speaker. His topics have included, "Is it a cold or sinus infection?", "Why can't I smell or taste my food?", "Antibiotics: the good and the bad", "Natural remedies to treat your sinus symptoms."

As an expert in the field of ear, nose and throat, Dr. Nguyen is frequently featured in the press including Fox 26 News, Van TV Channel 55.2, 900 AM Health Talk show, and Best Docs Houston.  In addition, Dr. Nguyen has been invited to speak at national conferences on innovative treatments of sinus disease such as the Open Forum in New York City, NY in July 2014.  He was a discussant on the topics of "Treating Complex Sinus Disease Patients In The Office" and "Bringing Balloons And Other Procedures To The Office."
Dr. Nguyen has privileges at St. Luke's Hospital at the Vintage and Memorial Hermann Memorial City.
He is fluent in French and is a tennis fanatic. You can often find Dr. Nguyen on the tennis court on the weekends.
Conditions We Treat at Our Otolaryngologist Practice in Houston
Here at Houston Sinus & Allergy, we provide convenient, comprehensive and low-risk treatment for all ear, nose and throat symptoms. Whether you're experiencing nasal congestion, sinus problems or seasonal or year-long allergies, the right treatment will have an enormous impact on your quality of life. We help our patients recover from and eliminate sinus, nasal, ear, allergy and throat issues, including:
Congestion
Itchy, watery eyes
Throat discomfort
Earaches
Allergic fungal sinusitis
Sinonasal masses
And more
Why continue to live in discomfort when the help you need is right here? Dr. Nguyen and the staff at Houston Sinus & Allergy are here to help.
Why Choose Our Ear, Nose and Throat Specialist in Houston?
Our doctor and services at Houston Sinus & Allergy have something special to offer. When you visit us, most patients will not need to see multiple specialists for diagnoses or go to the hospital for your ENT surgeries. Often we are able to provide comprehensive services for your treatment right in our office.
Along with care, compassion and personalized patient service, Dr. Nguyen and our office offer everything you need for the treatment of your conditions. We'll be with you from testing, imaging, and diagnosis to in-house treatment and whatever procedures you require. We can provide procedures for your specific symptoms. We are especially interested in using the most natural procedures possible — so our doctor stays up-to-date on all the most current and progressive treatment options.
Trust our Triple Board Certified ENT doctor, state-of-the-art facilities and personalized approach to solve your ear, nose and throat problems.
To see how Dr. Nguyen and Houston Sinus & Allergy can help you find relief, book an assessment or contact us for more information today.